Asha Annual Cultural Fest UTSAV 2018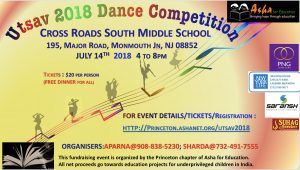 DANCE SCHOOL REGISTRATIONS ARE NOW CLOSED FOR UTSAV 2018 –
We have received an overwhelming response for UTSAV 2018 and We are now all Booked. We have Now closed the registrations for Dance Schools.
We appreciate your interest in our events and if you have missed the opportunity for Utsav 2018 , we apologize to you for not being able to accommodate you. We hope to have you with us for UTSAV 2019 
🙂
Asha for Education Princeton chapter is organizing its Annual Cultural Fest UTSAV 2018.  Click here for the Event flyer/Registration Links.
Date: Saturday, July 14th, 2018
Venue: Cross Roads South Middle School
195, Major Road, Monmouth Jn, NJ 08852
July 14th 2018 4 to 8pm
Registration Link For Guests
href="http://princeton.ashanet.org/utsav2018/">UTSAV 2018
Registration: http://princeton.ashanet.org/utsav2018
Categories
The following categories are available for registration:
              Classical Junior ( For age group 4 to 12 yrs)
              Classical Senior ( For age group 13 to 22 yrs)
              Non-classical Junior ( For age group 4 to 12 yrs)
              Non-classical Senior ( For age group 13 to 22 yrs)
Rules  for UTSAV 2018– Please read carefully
Registration Fee of $100 per school is required along with this application for each Dance performance.
The Dance performance should not exceed 7 minutes.
If audio track is used for performance, please make sure to send us a working copy at least 15 days in advance.
Please email your audio track to princetonasha@gmail.com.
Students may not participate in more than one performance.
In order to provide many schools the opportunity to perform, we will limit the number of performances per school.
NO confetti or other similar products are allowed on or off stage.
Changing rooms will be provided for your convenience.
School coordinators are responsible to keep performers ready on time.
Once finalized, the list of events will be shared with school coordinators in advance.
Organizers reserve the right to alter schedule/format to accommodate different situations.
We  will provide pizza and juice to  the performers. Dinner will be provided free to all the partidcipants and guests.
Outside food or drinks are NOT allowed.
Deadline to submit registration forms with all details and fees, is April 15th, 2018
Guest Tickets for Admission  into the event can be purchased at the venue – $20 for age 3 and above. The ticket price includes dinner.
Organizers are not responsible for any accidents, injuries and liability during the show.
By participating, you agree to uphold the ethical and cultural values we want our kids to learn.
We are accepting only 5 performances in each category. We will close the registrations, once we reach that limit.
Performances will be judged by a panel of judges on standard criteria. All decisions made by the panel are final.
Cash prizes will be awarded in each category for Winners
This fundraising event is organized by the Princeton chapter of Asha for Education.
All net proceeds go towards education projects for underprivileged children in India.
For any questions or concerns, Please reach out to princetonasha@gmail.com or
Call  Aparna@(908) 838-5230 or Sharda@732-491-7555
Looking forward to seeing you all in Utsav 2018  🙂
Aparna Raut  Chapter Coordinator / Sharda Sheshabhattar Public Relations Manager
Asha for Education , Princeton Chapter
http://www.ashanet.org/princeton