Asha for Education Princeton chapter is thrilled to organize its Annual Cultural Fest UTSAV 2018.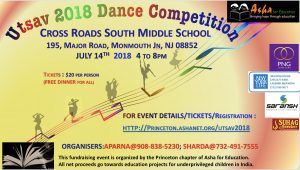 Registrations For Dance Schools are Now closed. All Guests are requested to Register ASAP to ensure FREE DINNER. 
Registration Link For Guests
Registration link is now closed. If you have not registered for the event yet, please come straight to the event by 2 pm and purchase your tickets there
Rules of Participation
Click here for the Rules of this event.
Vendors/Sponsors,  Information and  any other details Please Contact:
Sharda @732-491-7555
Aparna Raut @ 908-838-5230
Or Email princetonasha@gmail.com
Please Stay Connected with Us on Facebook by Liking our Page at
Click here
This fundraising event is organized by the Princeton chapter of Asha for Education.
All net proceeds go towards education projects for underprivileged children in India.