SEPTEMBER 10th, 2023
The Princeton NJ chapter of Asha for Education (Asha Princeton) is organizing a hybrid version of the Walk/Run event. Due to the ongoing COVID epidemic, we have an in-person Walk/Run as well as a virtual run this year. The in-person event will be held at the serene North Brunswick Community Park. Those who want to avoid the risk of COVID exposure can participate from their neighborhood or virtually from anywhere in the world as a virtual walk/run. Participants can participate in both virtual and in-person events with the same registration.
For the in-person event, there will be light refreshments served at the end of the race. Please spread the word around and bring more supporters to this event. Pre-registration is recommended using the links below. All proceeds go to Asha for Education, Princeton Chapter.
Asha for Education is a Non-Hierarchical, 100 percent volunteer driven, non-profit organization that focuses on the belief that education is necessary for socio-economic change. Asha has raised over $22 million and has directly supported over 800 projects benefiting thousands of underprivileged children in India since the birth of the organization in 1991.
Please challenge yourself and run this for Asha for Education, Princeton Chapter!!!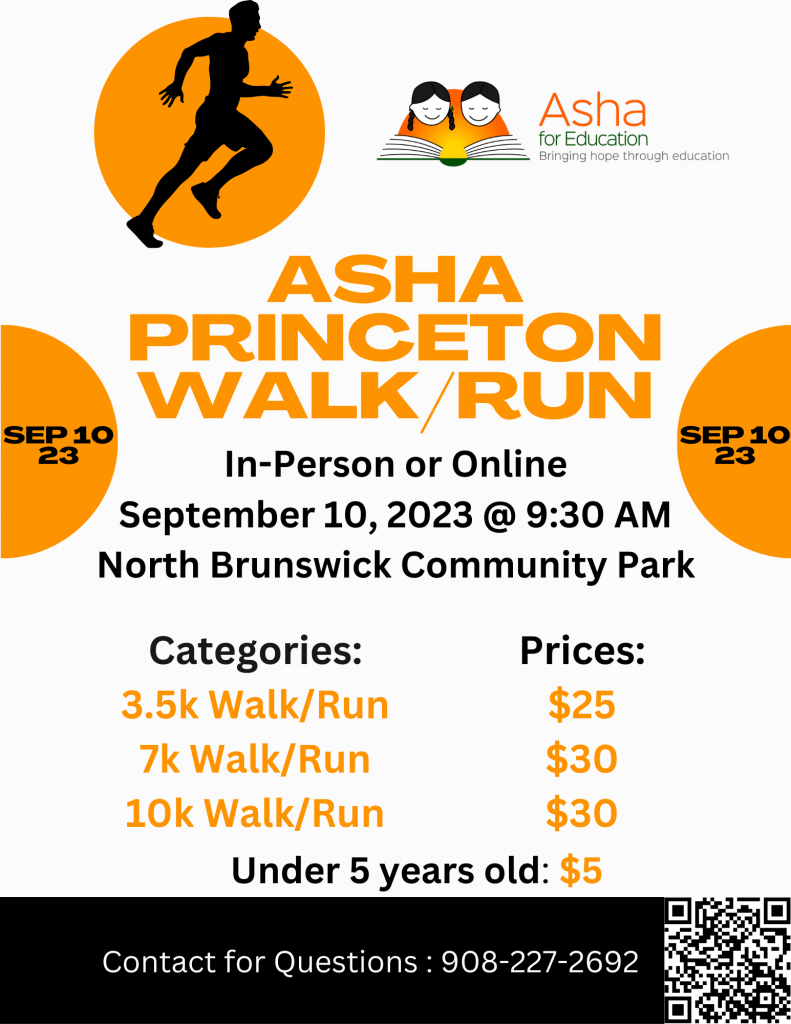 LOCATION
North Brunswick Community Park
2053 US Highway 130 North Brunswick, NJ 08902
Please enter the park from the route 130 South Entrance.
Click here to view the park location on Google Maps.
AGE GROUPS
3.5 K :   $25
7 K and 10 K : $ 30
Kids under 5 yrs: $5
CATEGORIES
3.5K Walk / Run Virtual ✅ In person ✅
7K Walk / Run Virtual ✅ In person ✅
10K Walk / Run Virtual ✅ In person ✅
Please Click Here to register for the event / participate.
SPONSORS / DONATION INQUIRIES
As a purely volunteer driven organization Asha for Education depends on the generous financial aid from individuals and organizations. For sponsoring events or donating to our charity, please contact Rajeswari @ 908/227-2692 or Aparna @ 908/838-5230 or send an email to AshaPrinceton5K@gmail.com.
Sponsorships, donations, and matching donations: Use the link below.
Please Click Here to donate for Asha for Education, Princeton Chapter.
BIB PICK UP
September 2nd and 9th (9 A.M to 1 P.M.) Location will be revealed through email.
RACE DAY EVENT SCHEDULE
Race Day: SEPTEMBER 10th, 2023
08:30 A.M. Race day Registration opens
09:30 A.M. Pre-race announcement and warm ups
09:45 A.M. Race starts
11:30 A.M. Post race announcements
Everyone is a winner. Please spread the word and bring more supporters to register. All proceeds go to Asha Princeton.
CONTACTS
Rajeswari
Email: ashaprinceton5k@gmail.com
Phone: 908-227-2692
Aparna
Phone: 908-838-5230
FREQUENTLY ASKED QUESTIONS
What does a hybrid event mean?
Due to current COVID 19 epidemic we have two choices, being in an in-person Walk/Run event or being in a Virtual Walk/Run. The Virtual one is for all those who want to avoid in-person events.
What does the Virtual runner have to do?
Virtual candidate can Walk/Run on the same day, Sept 10th or any day in the month of September, at his/her own neighborhood or anywhere he/she feels like.
After the Walk/Run is over, he/she will send a screen shot of the total miles that he/she walked or ran and send to ashaprinceton5k@gmail.com
Can kids participate in the event?
Parents will need to decide about the participation of their kids. Parental permission is required for participation.
Why should I register?
Participating in this event will not only help combat stress and provide you with a fitness goal during these current times, but it will help bring hope to children in India. Participating in this event can keep you fit and help the underprivileged at the same time.
You can benefit yourself by making this event interesting for yourself by enjoying the beautiful scenic setting of North Brunswick Community park amidst nature or by participating virtually or participating in both in-person and virtual events.
How do I get more information?
You will get periodic emails from ashaprinceton5k@gmail.com motivating you and giving any additional information available. Alternatively, you can login to this Facebook and Instagram.