5K Walk/Run on September 8th 2019 at the North Brunswick Community Park, NJ
About the Event
Contact Information
Registration
Directions
Sponsors
Winners
---
The 5k Walk/Run Event ended at 5PM on September 8 2019.
We would like to thank all participants and donors for making this event a grand success. The total number of registered donors/participants exceeded 150. Also, a big thank you to our sponsors. Sponsors play a big part in providing a significant amount of funding and services for our event. Please take your time to read through our list of sponsors and if possible, visit their websites.
Chugh, LLP – Attorneys & CPAs
295 Pierson Ave #101, Edison, NJ 08837
Offices: Los Angeles, CA | Santa Clara, CA | Edison, NJ | Atlanta, GA | Washington, D.C. | New York, NY | Hyderabad | Ahmedabad | Bangalore | Chandigarh | Chennai | New Delhi | Mumbai | Canada | Mexico | United Kingdom | Brazil | Pakistan
Click here to visit chugh.com

Divya Ayurveda
South Brunswick, NJ: (732) 821-3047 | Congressional office Park, 3086 Route 27, Suite #2, Kendall Park New Jersey 08824
Bensalem, PA: (267) 523-5929 | Showcase Plaza, 2842 Street road, Bensalem, PA 19020
www.divyaayurveda.com

Master Peter's Academy of Martial Arts
Dayton, NJ: (732) 823-1090 | 485 Georges Road Suite 117 Dayton, NJ 08810
Robbinsville, NJ: (609) 223-2777 | 1151 Rt 130, Robbinsville, NJ 08691
email us at mpama@masterpetersama.com
www.mpama.com

Re/Max of Princeton
343 Nassau St, Princeton, NJ 08540
Sarita Joshi Re/Max Princeton

Aroma Catering
(609) 865-9454

Airport Duo
(609) 269-8266
Sponsors / Donation Inquiries
As a purely volunteer driven organization Asha for Education depends on the generous financial aid from individuals and organizations. For sponsoring events or donating to our charity, please contact Rajeswari Ummettala @ 908/227-2692 or Aparna Raut @ 908/838-5230 or send an email to AshaPrinceton5K@gmail.com.
---
About the 5k Walk/Run Event
The Princeton NJ chapter of Asha for Education (Asha Princeton) is organizing a 5K Walk/Run this summer. This event will be held at the serene North Brunswick Community Park. There will light refreshments at the end of the race. There will also be face-painting for little kids. T-shirts will be available till stocks last. Please spread the word around and bring more supporters to this event. Pre-registration is recommended using the links below. All proceeds go to Asha for Education, Princeton Chapter.
Asha for Education is a Non-Hierarchical, 100 percent volunteer driven, non-profit organization that focuses on the belief that education is necessary for socio-economic change. Asha has raised over $22 million and has directly supported over 800 projects benefiting thousands of underpriviliged children in India since the birth of the organization in 1991.
---
Race Day: September 8th 2019
| | |
| --- | --- |
| 2:00 PM | Race Day Registration Opens |
| 2:40 pm | Pre-race announcements and warm-up |
| 3:00 pm | 5K Run |
| 3:10 pm | 5K Walk |
| 3:30 pm onwards | Refreshments |
| 4:15 pm | Post-race announcements and Prizes |
---
Contacts
Rajeswari Ummettala
email: rummettala@gmail.com
phone: 908-227-2692
Aparna Raut
email: aparnaabhyankar2003@yahoo.com
phone: 908-838-5230
---
Registration
Click here to register and/or donate for this event.
Please stay connected with us on our FaceBook 5K Event Page. Click on the link below to get updates about the event.
Asha Princeton 5K Walk/Run facebook event page
---
Directions
North Brunswick Community Park
2053 US Highway 130 North Brunswick, NJ 08902
Please enter the park from the route 130 South Entrance.
Click here to view the park location on Google Maps
---
Winners
There will be giveaways and prizes for select winners on the day of the event.
---
Event flyer for Printing and circulation.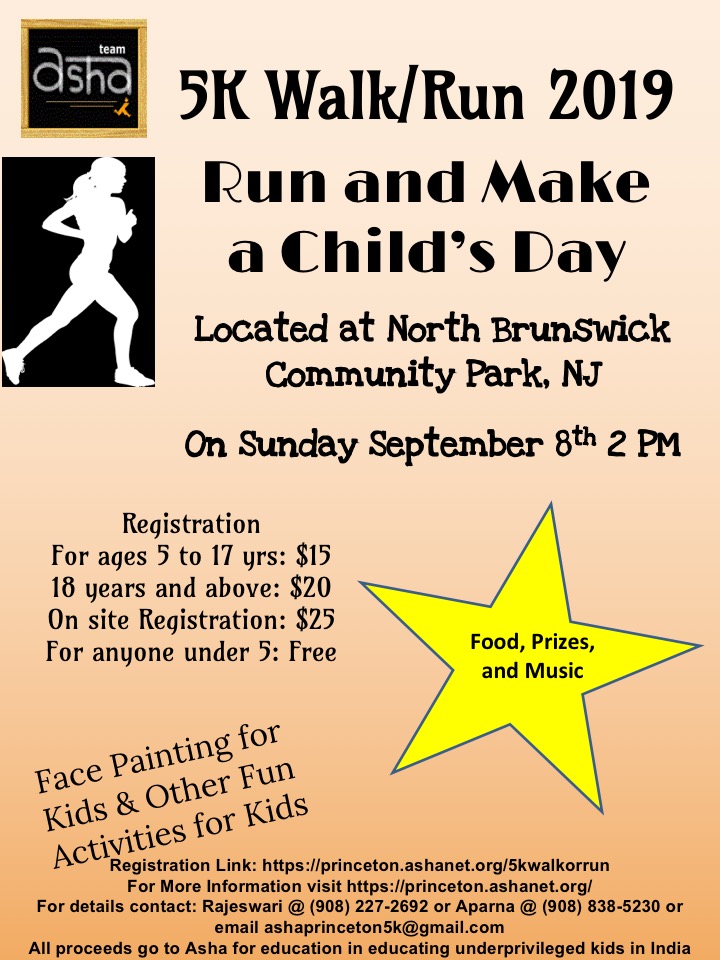 ---
Go back to the Top of this page